Heads of University Management & Administration Network Europe
Professional Pathways Programme for General Administrators, University of Edinburgh, February 25-26, 2019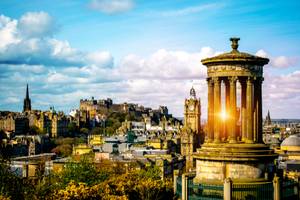 Adapt or die: the power of the generalist in a world of change
Hosted by the University of Edinburgh
Contemporary European universities are living through an era of profound transformational change. This will favour those best able to understand emerging trends and adapt to them effectively. Nature suggests that this should favour the generalist over the specialist: the most adaptable rather than the strongest. Will this be true of university administration as well? And what will it take to reach the top?
This development programme will be of particular interest to generalist administrators ambitious to progress: to academic registrars, faculty managers, student service providers, institutional planners, senior governance officers and their staff.
Generalist administrators are central to the success of our universities, but their route to the top can be difficult. Some see their prospects diminished by the growing specialisation of individual professions, and the direct recruitment of senior staff from other sectors. But universities increasingly need leaders of their professional services with a wide understanding of the core business, a broad appreciation of the outside world, and the foresight to connect the two.
How will our universities and the world of work evolve in the decades ahead? And how can we best adapt to these changes? Where will new opportunities emerge for talented generalists with the right portfolio of knowledge, skills, attitudes and experience? And what will be required to succeed?
The programme starts with expert insights into global trends affecting universities and employment markets, helping participants to understand some of the mega-trends that are fuelling the transformation of higher education - demographic changes, new patterns of supply and demand, shifting values, the growth of consumerism, the erosion of trust, the emergence of new technologies and the impact of these on notions of customer service.
The following sessions will draw upon the knowledge and experience of speakers and participants from a range of universities across Europe. How are these trends affecting our own institutions, the evolution of professional services, and the role of generalists? What can we see happening already? What will talented generalists need to become future leaders of higher education professional services? And how can they best equip themselves to deal successfully with the major challenges that lie ahead?
The programme has been designed to be highly interactive. In addition to traditional presentations, participants will be engaged in small group discussions and workshops with a focus on:
Understanding the scale and impact on universities of mega trends and global challenges
The implications of these for institutional and personal development
The skills and understanding which generalist administrators require to recognise and communicate the need for change, and to position themselves as "part of the solution, not part of the problem"

.
The programme is on the 25-26 Feb 2019, with delegates arriving on the evening of the 24th for an informal team dinner.