Heads of University Management & Administration Network Europe
HUMANE Annual Conference in Malmö - Speakers
Cecilia Christersson
Pro Vice Chancellor for Global engagement and Challenge Based Learning, Malmö University
Malmö university has since the start in 1998 an outspoken aim to attract a non-traditional student population in promoting diversity as an important quality aspect. Promoting research addressing societal challenges and educating students as change agents is our contribution to societal sustainable development.
This endeavor is heavily dependent on collaboration with various partners in society and have shaped our university to be socially engaged and committed both locally and globally. Our approach to widening participation will be presented and a couple of promising initiatives shared.
Cecilia Christersson is the Pro Vice-Chancellor for Global Engagement and Challenge Based Learning at Malmö University, after two terms assignment as Deputy Vice-Chancellor, with education on bachelor and master levels, internationalisation and quality development/assurance in her portfolio.
A dentist by profession, specialised and holding a PhD in prosthetic dentistry, Cecilia is an associate professor in Prosthetic Dentistry and Dental Material Science and has prior to the appointment as DVC served as the Head of the department of Technology and Dental Material Science at the Faculty of Odontology at Malmö University. After completing her research education in the US (State University of New York at Buffalo, NY) she returned to the Dental Faculty in Malmö and was part of the team developing a successful new problem based learning curriculum in the early -90ies. Through 2001 to 2010 Cecilia was the Director of Admission to Dental Education at the faculty and developed an alternative admission procedure to widen access to dental education. In January of 2012 through 2013 Cecilia held the position as the second female president for the Association of Dental Education in Europe (ADEE). During her presidency special attention was given to the recognition of professional qualifications which enables the free movement of professionals such as doctors and dentists within the EU.
In 2007 she was in her role as the President of the Swedish Society for Prosthetic Dentistry appointed by the Swedish Ministry of Health and Social Affairs to participate in the preparation of a new Swedish National Dental Care Benefit Program. More recently she has been appointed by the Swedish Ministry of Higher Education and Research to investigate and report on how collaboration between the Swedish School System and Swedish Universities on practice based research can promote learning and improvement in education. The report (SOU 2018:19) was handed over to the minister Helen Hellmark Knutsson on the 6th of March this year.
Cecilia has led Malmö University to adhere to an overall integrated Quality Framework for all educational levels. Overseeing the Malmö University´s agenda on widening participation in higher education she has also taken a national role as the chair in the committee for refugee related issues in the Association of Higher Education in Sweden (SUHF). Cecilia is often requested to participate as an external panel member in quality accreditations of universities in Europe.
Chris Cobb
Pro Vice-Chancellor and COO, University of London
Chris will explore developments in UK student activism and reflect on the use of social media and main stream media to galvanise support for causes and manipulate public perception. He will also compare and contrast different approaches to managing student protests to maintain day to day operations as well as communications strategies to deal with reputational impact.
Chris Cobb is Pro Vice-Chancellor at the University of London. He was previously Pro Vice-Chancellor at Roehampton University and prior to that was at the London School of Economics where he was Director of Business Systems and Services.
Chris is a former member of the AHUA Executive (2014-2016) and is a member of UK HE Financial Sustainability Steering Group and is also a member of the HESA Data Futures Programme Board.
Chris has sat on a number of national working groups relating to IT in Higher Education. Chris is a member of Oracle EMEA HE Advisory Group and a member of Ovum's Future EdTech Advisory Board. Previously he has been a member of the HEFCE Shared Services working group. He has undertaken JISC funded research in the use of enterprise architecture within a university context with the specific aim of developing a services oriented architecture to enable shared services.
Chris has also taught University IT Management at the HUMANE Winter School and is a member of the HUMANE Executive Committee and Round Table.
Chris is a judge on the Times Higher Education Awards and the Times Higher Education Leadership and Management Awards, and is also a Governor of Goodenough College and a Freeman of the Worshipful Company of Information Technologists and the City of London.
Kerstin Tham
Vice-Chancellor, Malmö University
Malmö University is the youngest university of Sweden and Kerstin will in her presentation focus on: what's so high about higher education in a post-truth world? She will elaborate on the Malmö university strategies for being a modern and urban flagship university with a strong societal commitment/engagement.
Coming from a background in occupational therapy Kerstin has a PhD in Neurology, earning her a professorship. That included conducting internationally unique research identifying the lived experience of individuals with neuropsychological impairments after suffering strokes. The research has contributed to the development of new models, methods and strategies for rehabilitation.
Kerstin was previously was the deputy vice- chancellor at Karolinska Institutet in Stockholm responsible for strengthening the links between education and research in a highly competitive research environment. At Malmö she fully embraces the university's vision which fosters a creative environment and strives for a close relationship with the region, as well as the international community. She is keen to further engage the university in working towards a world where diversity, knowledge and creativity are transformed into action for sustainable community development. She believes that the university is in a prime position to take the lead and create new paradigms within both education and research.
Hans ten Brinke
Communications Strategist, MAPPA Consult
Universities are needing to adapt to the demands of a ubiquitously networked society. How they can they respond positively to these developments?
Saying loud and clearly what is your story and your truth does not work any longer. Looking for alignment and dealing with the interests of different target groups are essential nowadays.
In his presentation, Hans ten Brinke introduces the concept of so-called stakeholder management for universities. Taking the perspective of reputation as a policy instrument, Hans will paint a picture of how universities can communicate more effectively with internal and external stakeholder groups. How can a successful dialogue with these groups be developed if framed as a challenge of stakeholder management? How can this method of communication contribute to the strategic interests of the university as a whole? Hans will also give his views on some best practices of stakeholder management in organisations he has worked with.
Hans ten Brinke is a senior communication strategist. He is the founder and owner of MAPPA Consult, a consultancy for strategic dialogue. Hans has been working for many years in this field in higher education, as well as for national governments and in the financial services sector. Before founding his company, his last senior role was as a Managing director of Corporate Communications at APG.
At the VSNU, Association of Universities in The Netherlands, Hans has been Head of Communication for more than five years. As a consultant he has been working for TU Delft, Radboud University Nijmegen, TU Eindhoven and Utrecht University. At the moment he is involved as a consultant helping Utrecht University with a reorganization project concerning some of its faculties
Pieter Bevelander
Professor of International Migration and Ethnic Relations, Malmö University
The number of refugees in the world amounts to more than 50 million people. Only a minority come to the developed world and seek asylum. However, the increasing flow of refugees into developed welfare states calls for better knowledge about the integration of refugees into a host country's labour market. The presentation will give an overview of the current situation of refugee labour market integration in Europe, in particular Sweden, and discuss the main factors behind this.
Pieter Bevelander is professor of International Migration and Ethnic Relations at the Department of Global political studies and Director of MIM, Malmö Institute of Migration, Diversity and Welfare, Malmö University, Sweden. His main research field is international migration and different aspects of immigrant integration as well the reactions of natives towards immigrants and minorities. He has published widely in international journals and is currently in the editorial board of both the Journal of International Migration and Ethnic Studies and Comparative Migration Studies as well as Associate Editor of International Migration Review. He is a member of the Swedish government commission on Migration DELMI (http://www.delmi.se/en), a member of the Executive Board of the IMISCOE network and a board member of the Metropolis network. He has produced reports on migration and integration for several international organizations like the FRA, ILO, IOM and MPI.
Ilmar Reepalu
Former Chairman of the Municipal Board, Malmö
After a professional life as an urban planner in Borås and Malmö, Ilmar Reepalu became a municipal commissioner of Malmö in 1985. In opposition from 1985 to 1994, he then served as chairman of the municipal board - a position similar to that of mayor - from the 1994 election until his retirement on 1 July 2013.
During his term as chairman of the municipal board, Ilmar Reepalu was lauded as being instrumental in the transformation of Malmö from an industrial town in decline towards being a centre of knowledge and modern architecture. Architectural projects that he helped to bring into existence during his mayoralty include the Øresund Bridge (completed in 2000), the Turning Torso building (completed in 2005) and the City Tunnel (completed in 2010).
Troed Troedson
Futurologist and Trendwatcher
The last industrial revolution
The last 200 years have been remarkable. Humanity has improved it's lives and conditions in a way that way impossible to imagine just a couple of centuries ago. The common denominator has been education and enlightenment. Education, or rather information, has also been the resource that creates differences in wealth and income. Well educated people, companies and countries had a competitive advantage before those less educated. They were competent.
These differences will soon be gone, we are actually entering a world where everyone is about as well informed as everyone else. And, even more exciting, a world where machines will compete with us not only in doing the work we used to do but also in learning, that is building the knowledge base of society.
This is not a threat, this is a promise. The last industrial revolution is also the entrance to a new paradigm, one that is as revolutionary as the old one was. The meaning of competence will be reinvented and agility, complexity, empathy and values will replace long term planning, specialisation, productivity and knowledge.
Troed Troedson is a future analyst, lecturer and writer who runs a company of consultants since more than 20 years and he has, during this time, worked as an advisory consultant within almost every part of commercial, industrial and public sector in and outside of Sweden
Wilhelm Krull
Secretary General, Volkswagen Foundation
We are living in turbulent times. Nationalist and populist movements seem to be on the rise almost everywhere, indicating an erosion of trust in established political, economic and academic elites as well as in research-based advice
The keynote will address the wider role of academic institutions within these developments. Among the aspects considered will be specific threats – such as those for the United Kingdom in the face of Brexit or by increasingly autocratic regimes like Hungary, Poland, or Turkey – as well as arising opportunities like the development towards "European Universities" as envisaged by Emmanuel Macron in a speech at the Sorbonne in 2017.
In the last part, the keynote focuses on specific challenges to the leadership and management of academic institutions. Most important among those will be to fundamentally change the hitherto common practices of communication. Universities are often still committed to a linear sender-receiver model of communication and need to embrace more interactive measures to regain public trust. In doing so, university leaders are challenged to come up with new, postheroic modes of leadership, and to foster a culture of creativity.
Wilhelm Krull is Secretary General of Volkswagen Foundation – following his studies in German, philosophy, education and politics, an appointment as a DAAD lecturer at the University of Oxford, and leading positions at the Wissenschaftsrat (German Science Council) and at the headquarters of the Max-Planck-Gesellschaft (Max Planck Society). Besides his professional activities in science policy as well as in the promotion and funding of research, he was and still is a member of numerous national, foreign, and international committees. In June 2012, Wilhelm Krull was awarded an honorary professorship by the Faculty of Arts & Sciences at Washington University in St. Louis, and in May 2016 an honorary doctorate by the Ilia State University in Tbilisi, Georgia. His latest book "Die vermessene Universität", Passagen Verlag, was published in spring 2017.
Per Bengtsson
University Director, Karolinska Institute
In January 2016, Swedish Television broadcast a three-part documentary, Experimenten (The Experiments), exposing several examples of misconduct concerning transplantations performed by Paolo Macchiarini, a visiting professor at Karolinska Institutet (KI). This turns up to be a mayor scandal for KI, and the process continues for more or less 18 months. The challenge is to restore the public trust in the brand of KI. Per was in the center of this processes, although the responsibility not was his, he became a part of the rebuilding of confidence in KI.
Per Bengtsson is University Director at Karolinska Institutet, a position he has held since January 2012. Mr. Bengtsson has a university degree in public administration and political science and a professional background from the Swedish government ministries, where he held a variety of positions, from civil servant to head of department.
In the Swedish National Heritage Board, he was responsible for the administrative department from 1999 until 2002. Between 2003-2011 he was administrative director in the Swedish Parlaiment (Riksdag).
As University Director, he has overall responsibility after the Vice-Chancellor for Karolinska Institutet's administrative, legal and financial management, and is also head of the central university administration.
Jesper Falkheimer
Professor in Strategic Communication & Head of Division Research, Collaboration & Innovation, Lund University
Tell it all, tell it fast and tell the truth. These words capture the classic advice for crisis communication from an organizational point of view. But reality is rarely so simple that this advice can be applied right up and down. Digitization, information overload, speed, increased mobility and globalization have created new conditions for crisis communication. New and changing stakeholders with conflicting goals and new forms of media habits challenge established communication strategies. What is at stake for organizations during and after crises is their legitimacy. How can you communicate proactively during crises so that you can benefit from the trust you already have and may even increase this? This presentation presents trends and conditions that apply to crisis communication in our digital age as well as different strategies and tactics to take in order to manage new forms of crisis.
Jesper Falkheimer (Ph.D. Lund University, 2004), is Professor in Strategic Communication at Department of Strategic Communication, Lund University, Sweden. His research interests are strategic communication in general, and more specific, crisis communication, communication management, terrorism and place branding. Since several years he has combined research with university management positions and is now Head for Division for Research, Collaboration and Innovation at Lund University, after six years as Rector for Campus Helsingborg. He is Editor-in-Chief for Journal of Communication Management, one of the leading research journals in his field, Honorary Fellow at Hong Kong Polytechnic University, an executive board member of one of the major communication agencies in Sweden. He is also an executive board member of University College of Halmstad, Sweden.
He recently published Strategic Communication: an introduction (witj Mats Heide, Routledge, 2018), is co-editor for International Encyklopedia of Strategic Communication (Wiley) and has published several books, anthologies and articles in different journals.
Jannica Aalto
Public Relations Manager, HYY Group
How do you create a credible public voice in a world where everybody wants to be heard and you are surrounded by noise?
In 2011 Björn Wahlroos, the chairperson of Nordea Bank, Sampo Group and UPM-Kymmene said "SYL (National Union of University Students in Finland) is the biggest mafia in Finland". Saying that, he did not refer to the way students act in politics, but was referring to how big the student movement's influence was and still is in Finland.
From this session, you will leave with an understanding why student movements and NGO's in Finland are usually very good in lobbying and getting their voices heard in public debates and matters. How do they do their political campaigning and act as influencers in politics. In addition, why is it so important to the Student Union to do the influencing together with the university and why do the universities also need the student voice from with them.
Recently referred to as the "established student leader" by Helsinki city's deputy mayor Anni Sinnemäki, Jannica Aalto has been part of different student organizations for almost ten years. The extensive career on the voluntary side has continued with her current position overseeing public relations in HYY Group, a company owned by students.
Student organizations in Finland are among major influencers in voluntary causes and politics, as well as campaigning for the two. Jannica has experience in four different elections (2011 Parliament election, 2012 Municipal election, 2015 Parliament election and 2017 Municipal elections) and the relating processes, including the essential work that needs actions between elections.
"In all my actions and in my work, the driving force has been the chance to build meaningful communities, to create better communication and to make the world a little bit better place for all of us (and yes, I know most of millennials are motivated by the same values)."
Jannica is currently working as Public Relations Manager in HYY Group, a student-owned company owning 20 restaurants and high-value real estates in Helsinki city center valuing approximately 200 MEUR. Jannica has previously worked as the chair of the board in the Student Union of the University of Helsinki (HYY), a board member in Helsinki University and the secretary general in HYY.
"In my free time, I follow politics, watch HBO and I try to keep up with the two rascals in my life, also known as my lovely kids."
Ian Creagh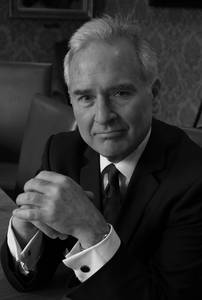 Conference Facilitator
After serving 10 years as King's College London's Senior Vice-president Operations & College Secretary, Ian now holds a portfolio of roles including Strategy Consultant for HUMANE. Prior to King's, he held similar chief operating officer roles at City University London and before that, the University of Adelaide. The first part of his career was in the Australian Public Service where he rose early on to become a member of the Senior Executive Service. Ian is also an experienced non-executive having served on the Board of King's Health Partners, the Council of Governors of an NHS Foundation Trust, and the audit committee of the British Academy.