Practical Information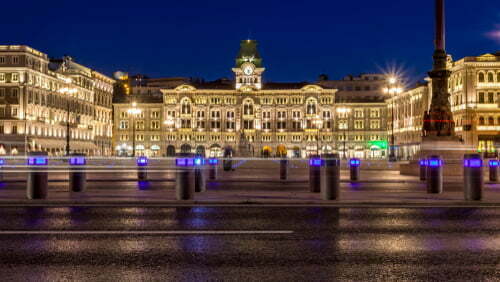 Contact Information:
Mara Contardo – University of Trieste
Email: here
Tim Evans – HUMANE Secretariat
Email: here
Venue Details
The HUMANE Autumn Seminar will take place at the University of Trieste, next to the main building of the University:
Dipartimento di Scienze Economiche, Aziendali, Matematiche e Statistiche (DEAMS),
Via A. Valerio 4/1, 34127 Trieste
The room is Sala Conferenze "Bruno de Finetti" – 1° 1st Floor, building "D"
Google maps link is available: here
The University's main site is in Trieste overlooking the city. From the hotels listed below it is very easy to reach the university campus by taking bus no. 17 or 17/. Both buses have stops within walking distance of the listed hotels. For the bus, you will need an urban transport ticket, the cost is €1.25 and you need to buy it in advance. The following link allows you to download the bus company's app where you can easily buy tickets: here
The image below shows the route from the bus stop to Via A. Valerio 4/1. HUMANE signs will be posted to show you the way.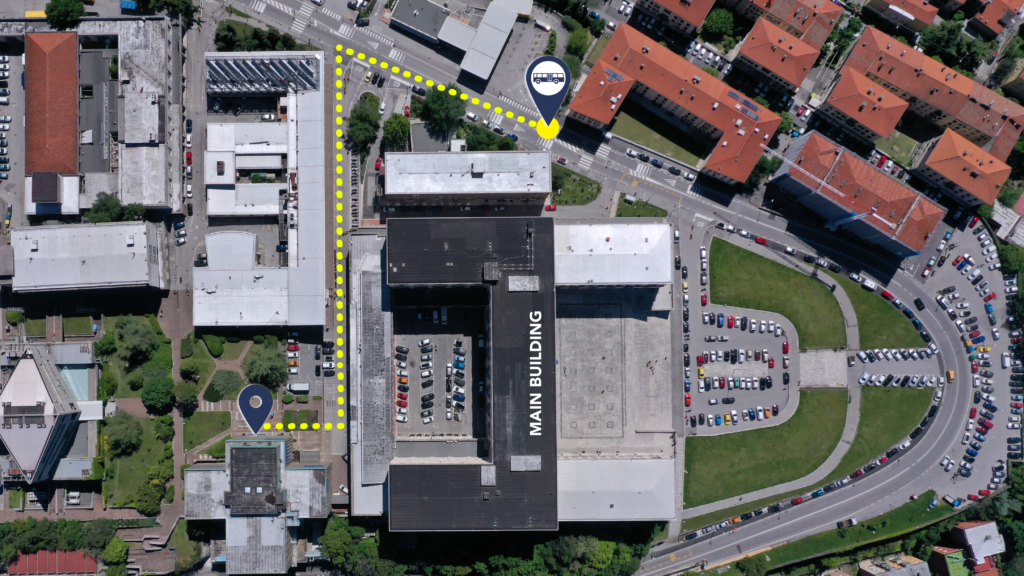 Programme
The latest version of the programme is available here
Seminar Fee
The Seminar fee for members (including staff from their institutions) and HUMANE Residential School alumni is €580. For non-members the fee is €680. The Seminar fee includes the Seminar dinner, two lunches and coffee breaks.
Covid 19 Important Information
Covid 19 requirements change quickly at the moment so please check the situation frequently for both your departure country and Italy.
Accommodation
You are responsible for your own hotel reservation.
The local organiser has suggested the following hotels in the neighbourhood of the University of Trieste. These hotels have bus stops for line 17 or 17/ within walking distance which will take you to the seminar venue. However there are many other hotels in Trieste and we suggest that participants consult websites like booking.com to see what is available. HUMANE cannot guarantee that the rates shown below are the best rates. Please do not hesitate to check on the internet.
Riva del Mandracchio, 4, 34124 Trieste
Tel. +39 040 77 941 // Email: here
Piazza Unità d'Italia 2, 34121 Trieste
Tel. +39 040 76 00 011 // Email: here
NH Hotel 4*
Corso Cavour, 7, 34132 Trieste
Reservations: +34 91 398 46 61 // Tel.: +39 040 7600055 // Email: here
Corso Italia 12, 34121 Trieste
Tel: +39 040 0645690 // Email: here
Via San Nicolò 25, 34121 Trieste
Tel: +39 040 631717 // WhatsApp: +39 350 0101122 // Email: here
Meals and Social Programme Information
Lunches will be taken at the times indicated in the main programme at the University
The Seminar Dinner will take place on Thursday evening. Details vill be sent via email to registered participants.
Local Information
A presentation about Trieste can be seen: here
If you take a walk along the waterfront or on trails above the city, you will appreciate the varied panoramas and understand the city, not just from a scenic point of view, but from a cultural one as well.
The presence of monuments and landmarks, belonging to the diverse ethnic groups that have lived and mingled here since the 17th century, explains why, even today, Trieste is culturally ready to pave the way towards a new Humanistic era. With its performing-arts theatres, an opera house, museums, literary cafés, film and science festivals, the city offers a wide variety of daily activities.
Living in Trieste also means taking advantage of the many organisations and facilities geared towards lovers of the outdoors, such as swimming, rowing, snorkeling and scuba diving, horseback riding, spelunking, rock climbing, hiking, tennis and golf, not to mention sailing – the annual Barcolana regatta attracts thousands of racers from around the world. Moreover, if you love mountain biking, you can follow a number of cycling trails from the Karst down to the coasts of Slovenia and Croatia, as well as enjoy other surroundings that are also rich in history
Transport

How to get to Trieste
By plane
Trieste Airport is named Trieste-Friuli Venezia Giulia Airport, also known as Ronchi dei Legionari or Pietro Savorgnan di Brazzà Airport. Alternative airports are shown below.
How to get to the city centre
Trieste is about 45 minutes away from its Airport "Friuli Venezia Giulia". It can be reached:
By bus
Trieste airport is integrated into the public transport network of the APT GORIZIA coach operator.
COACH SERVICE: 51 FARE CODE: E06 ONEWAY FARE: €4.05
Tickets can be bought at the airport:
from the 24-hour automatic ticket machines, located inside (arrival hall of the passenger terminal, next to the main exit door) and outside the airport (on the covered walkway, in front of the bus stops)
at the tourist information counter – Infopoint Turismo FVG (Arrival hall of the passenger terminal).
By train
Trieste Airport is now a stop on the TRIESTE-VENICE line and is served every day by:
6 "Frecce" high-speed trains
20 local trains to/from UDINE
28 local trains to/from VENICE
48 local trains to/from TRIESTE
See the Trenitalia website to find the right connection with your flight.
The MI.CO.TRA service (Miglioramento dei Collegamenti transfrontalieri di trasporto pubblico) offered by Ferrovie Udine Cividale, runs on the Trieste – Udine – Villach line; on weekdays it stops at Trieste Airport and on Saturdays, Sundays and holidays runs to Trieste Central Station.
Tickets, schedules and information:
at the airport Ticket Counter
from the 24-hour automatic ticket machines, located outside the airport (on the covered walkway to trains)
online on the TRENITALIA website
By Shuttle
GoOpti is an international company specialised in individual and collective transfers to and from airports. For information and reservations, click: here
By taxi
Taxis are available outside the passenger terminal daily, between 08.00 and 24.00.
For more information and bookings:
Phone +39-0481-778000. Fax +39-0481-778000. Available on the mobile from 08.00 to 00.00: +39-389-9681210.
Email: [email protected] Website: here
Alternative Airports
Venice is located at a 2-hour distance from Trieste. If your flight arrives in Venice "Marco Polo" Airport, you have to reach Trieste by train, from Venezia Mestre train station.
Connections from Venice Marco Polo Airport to Venezia Mestre railway station:
Bus:
• ACTV bus line 15.
• ATVO MESTRE EXPRESS Shuttle
Journey time: about 20-25 minutes. Complete bus information can be seen: here
Treviso Airport "Antonio Canova"
Treviso is 2.5 hours from Trieste. If your flight arrives in Venezia Treviso "Antonio Canova" Airport, you have to reach Trieste by train from the Treviso railway station or Venezia Mestre railway station.
Connections from the airport to Treviso railway station: Shuttle bus or ACTT Line 6 – details: here
Taxi
The service is provided by the company Radio Taxi Treviso.
For info and bookings: Phone: +39 0422 431515 Text: +39 338 844 2000
Disclaimers
HUMANE and the University of Trieste fully intend to deliver the HUMANE Autumn Seminar. If however, public health restrictions associated with the Covid-19 pandemic require it to be postponed, participants will be notified with as much notice as possible.
Neither HUMANE nor the University of Trieste are liable for any losses, accidents or damage to persons or objects during the HUMANE Autumn Seminar. Participants attending the HUMANE Autumn Seminar do so at their own risk and responsibility.